Description
Core Mobile is designed to power the future of precision guided therapy and offers the choice of imaging and physiology on a single mobile platform. Core Mobile also provides clarity in your approach and confidence in your results by offering additional information during the diagnostic phase, assisting in intervention decisions.
Features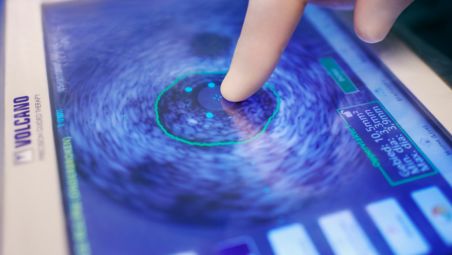 True integration and convenience
Core Mobile delivers convenience by offering flexibility to service multiple rooms. Only Philips offers the plug-and-play simplicity of digital IVUS, touchscreen control from the sterile field to get to your answers faster, and the hyperemia-free iFR modality.²,³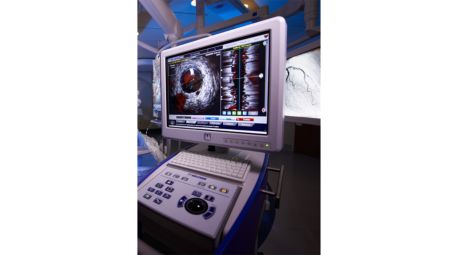 One system, many choices
Core Mobile supports a full suite of imaging and physiology analysis tools including FFR lesion assessment, iFR modality, iFR Scout, digital IVUS, high resolution rotational IVUS, ChromaFlo stent apposition assessment, VH IVUS automatic tissue classification, and Pioneer Plus IVUS for peripheral procedures.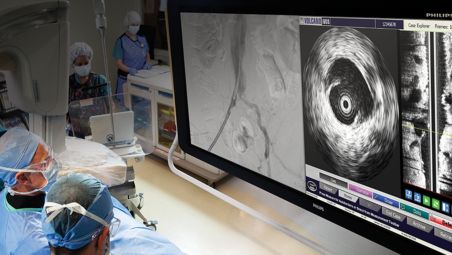 Intuitive interface
Core Mobile delivers an intuitive interface for optimal ease of use as well as guided workflows and uniform controls to simplify training. Convenient measurements and labeling tools are available to document findings. Core Mobile offers a streamlined workflow with DICOM Worklist for patient data transfer. You can archive your results via DICOM Store, DVD, or printout.²,⁴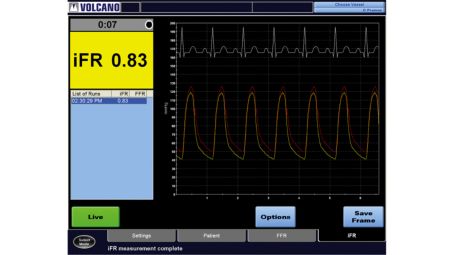 iFR modality simplifies workflow
iFR modality simplifies workflow by providing a hyperemia-free measurement to assess lesion significance in as few as five heartbeats. Philips' proprietary iFR modality has a robust body of clinical evidence with over 9,000 patients in numerous studies and peer-reviewed journal articles.⁵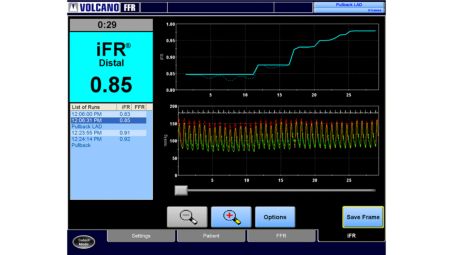 iFR Scout pullback
The iFR Scout pullback shows the most significant gradient in the mid-vessel lesion with diffuse proximal disease.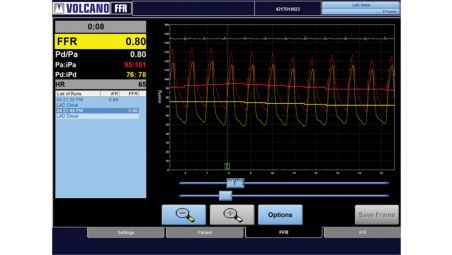 Fractional Flow Reserve measurement
Various clinical studies demonstrate that physiologic lesion assessment by FFR to guide routine PCI is superior to current angiography guided treatment. This measured ratio represents the potential decrease in coronary flow distal to the coronary stenosis.⁶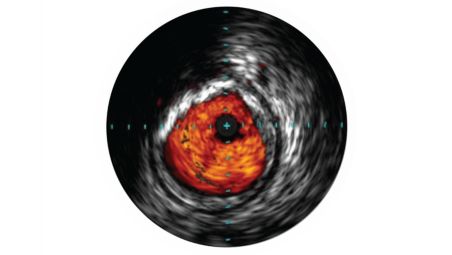 IVUS helps with disease assessment
IVUS imaging helps physicians assess disease markers, including plaque burden percentage, lesion location and morphology, calcium volume, and the presence of thrombus. It also provides analysis of crucial parameters—like luminal cross-sectional measurements—and helps aid in disease diagnosis.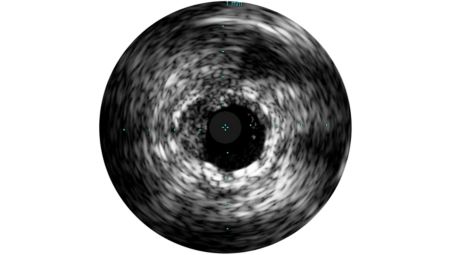 Grayscale enhances procedures
Grayscale enhances angiography procedures by enabling detailed views. Angiography produces a shadowgram of contrast, while IVUS visualizes extent and location of plaque, enabling precise disease assessment, vessel, and optimal stent placement. IVUS guidance has been associated with a 74% change in PCI strategy, and reduced MACE, MI, TLR, and death in large studies.⁷,⁸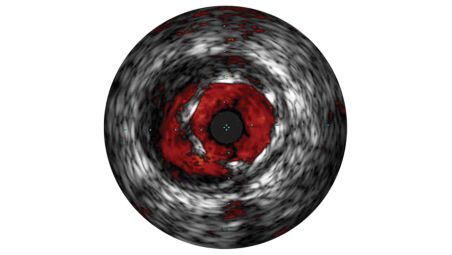 ChromaFlo stent apposition assessment
ChromaFlo highlights blood flow red for easy assessment of stent apposition, lumen size, and more. Appropriate for peripheral and coronary vessels, including left main, bifurcations, superficial femoral artery and iliac. It is designed to make lumen size and stent apposition instantly recognizable and helps identify branches, dissections, and plaque in bifurcations.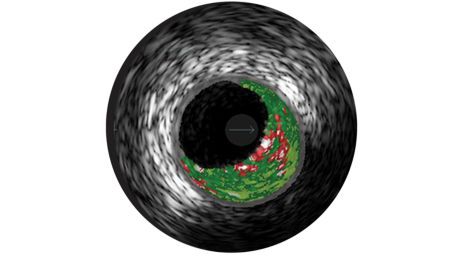 Real-time lesion assessment in the cath lab
VH IVUS Imaging provides a colorized tissue map of plaque composition with automated lumen and vessel measurements. VH IVUS technology uses advanced, proprietary spectral analysis techniques to classify plaque into 4 tissue types with 93-97% accuracy.⁹
Specifications
Power requirements

| | |
| --- | --- |
| System input | 100, 120V or 240VAC, 50/60Hz, 1000VA Volts, volt alternating current, hertz, volt-ampere |
Dimensions
| | |
| --- | --- |
| Core Mobile | H=62″, W=22″, D=33″ Inches |
| | |
| --- | --- |
| Control Pad (optional) | H=2.75″, W=10.5″, D=8.3″ Inches |